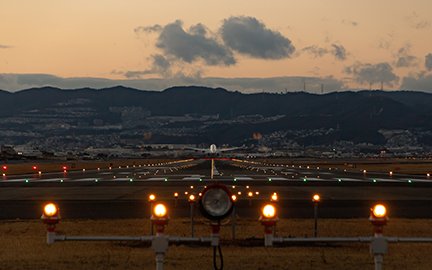 Good Airfield Lighting Ensures Safety in Dark Conditions
Obviously, an important part of airfield operations that have the potential to experience dark conditions or poor visibility is bright and clear airfield lighting to helps pilots land safely. An article by Tom Hoffmann, FAA Safety Briefing Managing Editor, writes about what is termed hot spots noting they "may include the intersection of two runways, the intersection of a runway and a taxiway, or parallel runways/taxiways that could lead to a wrong surface event." These hot spots can be especially challenging at night or in low visibility, making it even more critical that taxiway, runway and other airfield lighting be reliable and bright. Hoffmann also noted that these hot spots are not just limited to large-scale, multi-runway airports, they can occur at smaller airfields with just one or two runways.
While bright lighting may seem the number one consideration for airfields, lighting chosen must also be able to withstand all types of environmental conditions as well as maintain a long life, making the big picture when choosing lighting all about reliability. Therefore, many airfields continue to rely on halogen lamps for their cost-effectiveness, durability, availability, and ability to produce heat, which can prevent snow or ice from building up and blocking light during winters.
Amglo is proud of its long history of supporting airfields with a quality lineup of halogen and xenon lighting options. Our lamps can be used for virtually all airfield lighting requirements, including runways, taxiways, airfield guidance signs and approach systems including VASI, PAPI, MALSR, and others. Amglo products are designed and rigorously tested to provide the utmost in safety for these lighting systems. Additionally, Amglo's quality halogen lamps maintain candela output (the measurement of illumination produced by an output beam) exceed industry standards.
For more information and specs on our highly-engineered airfield lamps, be sure to download Amglo's Airfield Lighting Catalog here or contact us at (630) 350-9470 – we look forward to assisting you with you next lighting needs!