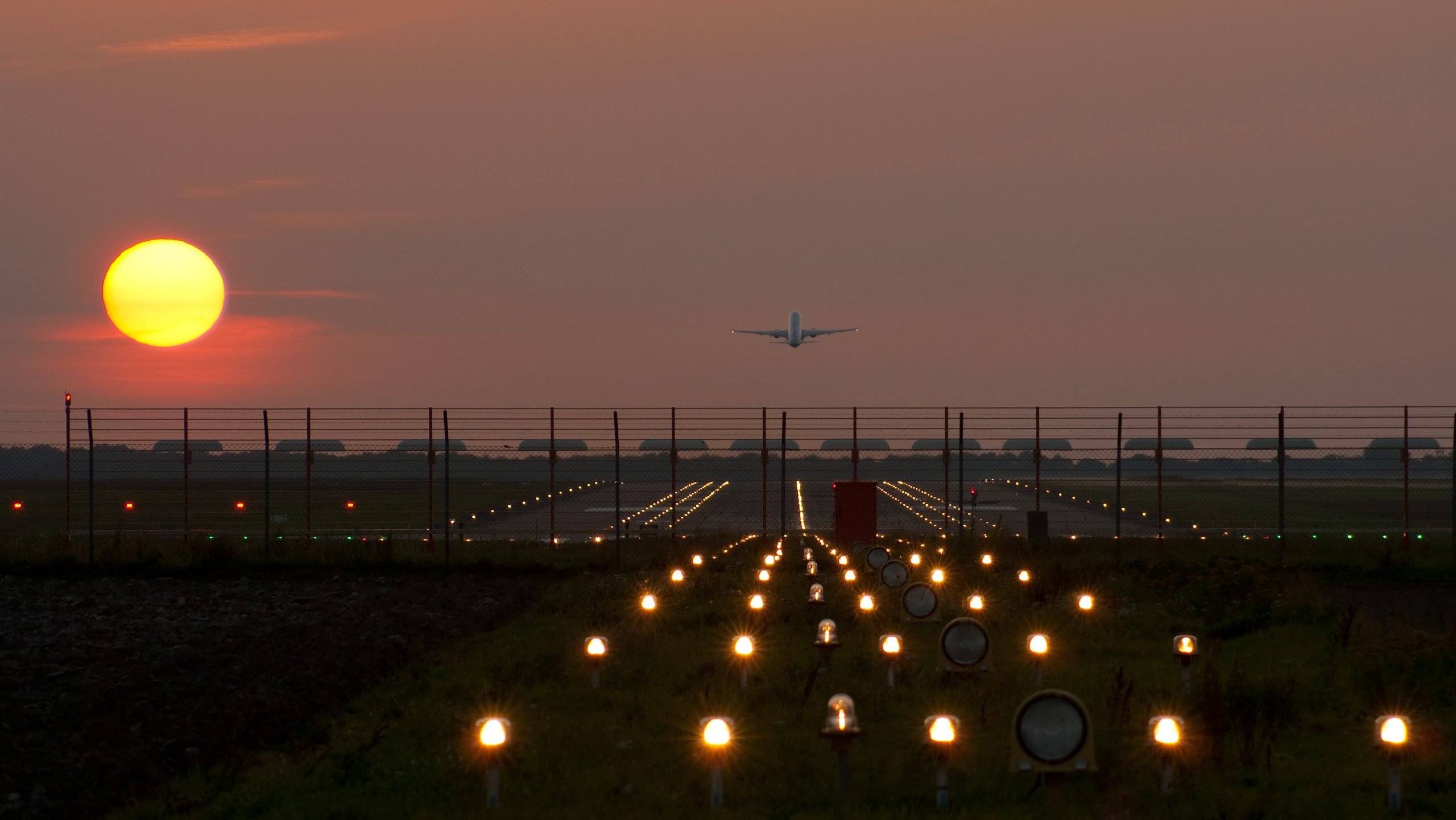 Cleared for Landing! Airfield Approach Lighting is Supported by Amglo Halogen and Xenon Lighting
Airfield lighting systems are a vital part of keeping airports operating smoothly and safely, but it is the approach lighting that assists pilots with one the most important activities – they provide information to pilots to bring aircraft from the sky safely to the ground on final approach. This information includes crucial details like runway alignment, height perception, glide slope and more. Lighting systems such as Medium Intensity Approach Light System with Runway Alignment Indicator Lights (MALSR) and Precision Approach Path Indicators (PAPI) must be outfitted with bright, rugged and reliable lamps that airfield managers, air traffic controllers and pilots can count on for safe landings.
These systems must conform to stringent airfield requirements when it comes to light output. The lamps used for these systems have not changed much until now—as the advent of LED has given airport authorities a new choice in lighting for many parts of the airfield. However, there are reasons for some airfields to continue with their use of halogen and xenon lighting within approach lighting.
Approach Lighting Systems (ALS)
Whether it is MALSR, MALSF, ALSF-1, ALSF-2, ODALS, RAIL or other visual guidance lighting systems for approach, Amglo offers a wide selection of quality replacement lamps for these different ALS systems. As some airfields are making the switch to LED lighting across airport grounds, it is worth noting that there are no fully approved ALS systems for LED and no drop-in LED replacements. The FAA is working on moving MALSR to LED, but this is still in development and testing, and will be for some time. This makes it critical to continue to have available the right halogen and xenon flashlamps for these approach systems. Amglo is currently the sole manufacturer of these types of lamps for many of these systems.
PAPI and VASI
The other major systems that are important to helping pilots approach the runway are PAPI and Visual Approach Slope Indicator (VASI) lights. Amglo offers MR16 halogen lamps for PAPI systems. While VASI systems are being phased out at most airfields, Amglo's PAR 56/64 halogen lamps continue to support these systems. Like other approach systems, lighting fixtures for PAPI systems cannot use a drop-in LED and there are only a limited number of LED fixtures and lamps available, many of which are much more costly than traditional halogen PAPI systems.
Amglo continues to be the prime manufacturer of lighting systems for many types of approach systems, along with providing lamps for other parts of the airfield including runways and taxiways. Our airfield lighting solutions have been meeting the demands of airfield and airport operators around the globe for more than eight decades. Built to overcome extreme weather and vibrations, Amglo's lamps and highly engineered and developed to comply with FAA requirements. Let us show you how we can support your airfield: view Amglo's airfield lamp specifications in detail in our catalog linked here and contact us today!