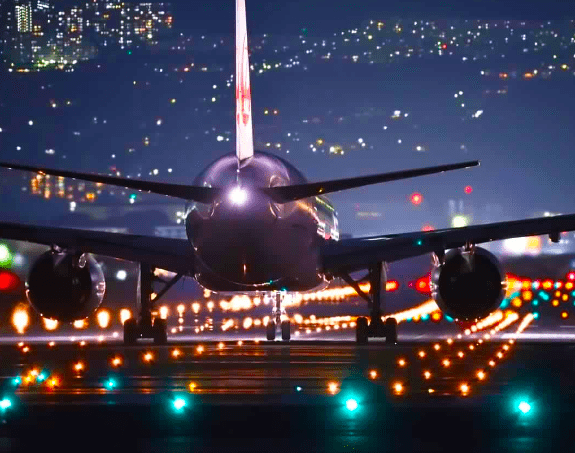 Aircraft Lamps
When it comes to keeping aircraft in the air Amglo has the answer. Amglo's offers highly engineered and reliable exterior lamps for all aircraft types with the goal of reducing operator cost. Amglo's long history in the aviation lighting began with earliest xenon flashlamps designs for aircraft recognition lights. All Amglo lamps are designed and certified in conformance to the ANSI (American National Standard Institute) specification and are also sold as a FAA-PMA approved part ready to export with assigned 8130-3 tags.
Additional benefits include: long lamp life reduces operating costs, line processes to eliminate glass stress, reduced vibration ensuring durability, consistent light output over the life of the lamp for improved safety, vibration resistant improves life of product, and 100% Q.C. Inspection.
Specific Lamp Uses
Wing Tip
Halogen EXM/EXL Series illuminate aircraft wing tips help determine aircraft position and direction.
Belly Navigation
PAR36 Series illuminate the under carriage of the fuselage for safe takeoff, landings and taxi maneuvers.
Landing Lights
Par 64 (Q4559X/Q5559 Series are extremely reliable, lightweight, increased service life for countless takeoffs and landing procedures.
Tail Number Light
Par36 Series are used to illuminate the company's logo painted on the vertical tail. While useful for advertising, the primary purpose of these lights is safety since the bright lights help to make the plane more visible.
Cargo/Baggage Light
Par 36 Series used for cargo baggage compartments are rugged and reliable illumination providing safety for ground and maintenance crews.
Wing Inspection Light
Par 36 Series are utilized for Wing inspection lighting and help assist crew and maintenance for aircraft preflight inspection and for illumination during engine start.
Exterior Logo Light
Par 36 Series illuminates aircraft logo for ground, taxi and takeoff identification
Landing Gear Light
Same as exterior landing lights.